*Same Day Ship*
Description
The Polyprint TexJet® echo2 DTG printer not only brings superior print quality to the table but also key features that will make your workflow hassle-free. The largest print area in the market along with the snap-on platen options will allow for on-demand customisation while the ease of use and the simple maintenance will make your production as seamless as possible. All of that coming with the lowest cost-per-print in the field that will secure & return your investment in no time!
What's Included

Polyprint TexJet

®

echo2 Printer
Digital Factory Apparel RIP Software
2 Sets of Ink - 140ML, 4 Whites, 2 Blacks, 1 Cyan, 1 Magenta, and 1 Yellow Per Set
AC Power cable
USB Printer Cable
Ethernet Cable
Cleaning Swabs and Pipettes
Cartridge Scale
Parchment Paper for Ink and Pretreat Curing
Transparent Films for Nozzle Check
User Guide Kit
Please Note: Price does NOT include $300 Factory Crate Fee.
Specs
MAX PRINT AREA

 

41x60 cm (16,1x23,6 in)

 

PRINTABLE TEXTILES

 

Cotton, light coloured polyester, cotton/poly blends, linen, viscose, leather, canvas, denim and more.

 

PRINT RESOLUTION

 

CMYK +4W

: 720x720, 1080x720, 1440x720, 1080x1440, 1440x1440 dpi

 

2x CMYK

: 720x360, 720x720 dpi

 

PRINT-HEAD TYPE

 

Piezoelectric DOD, 8 channels, 180 nozzles per channel

 

HEAD HEIGHT

 

2,5 mm (0.1 in)

 

MEDIA THICKNESS

 

18 mm (0.71 in) max

 

PRODUCTION SPEED*

 

*Including loading/unloading time.

 

35 Light - 15 Dark t-shirts/hour

 

CMYK

: 720x720 dpi - 

W

: 1440x720 dpi

 

Design size: 25x20 cm (10x8 in)

 

INKS

 

CMYKW

, Water-based textile pigment inks

 

INK FEED

 

Pressurized Delivery

 

Standard: Vacuum-sealed cartridges, 140 ml (4.73 

fl

 oz)

 

Optional: Pressurized refillable cartridges, 160 ml (5.41 

fl

 oz)

 

CONNECTIVITY

 

USB 2.0, Ethernet 10/100

 

OPERATING SYSTEM

 

Windows 10

 

SOFTWARE

 

CADlink

 Digital Factory Apparel | 

Polyprint

 Edition v10

 

POWER

 

AC 110-230V, 50-60Hz, 60-80W

 

OPERATING CONDITIONS

 

Range: 10-30° C (50-86° F) with 30-70% relative humidity

 

Ideal: 20° C (68° F) with 55% RH

 

DIMENSIONS, WEIGHT

 

L1280xW750xH458 mm (L50xW29xH19 in), 95kg (209.4 lbs)

 

PLATENS

 

Included

 

Standard: 34x52cm (+frame)

 

 

Optional

 

Max size: 41x60cm

 

Hoodies: 33x27cm

 

Polo: 30x43cm

 

Shoe Platen

 

Face Mask Platen

 

14x30cm (+frame)

 

15x15cm (+frame)

 

27x32cm (+frame)

 

27x40cm (+frame)

 

30x45cm

 
Videos
Impress your customers
Its small 3pl ink drop size achieves scalpel-sharp details and its single-pass white ink coverage are perfect for astonishing print.
Take your portfolio beyond Tees
Scale up your business with one of the largest print areas in the industry. Broaden your product line with allover designs, custom bedsheets, canvas shoes, denim, etc.
Switch textiles within seconds
Its automatic height adjustment sets the ideal distance between fabric and printhead, so you can dive right into production by easily changing between t-shirts, hoodies, towels, totes, etc.
Quick-swap platens
Explore 10 snap-on platen options and simplify your clothing-decoration experience. Print on a variety of applications and sizes swiftly without sacrificing quality.
No more ink waste
It remains idle up to 30 days without losing a drop! Now you're not afraid to let it sit!
First and foremost I am amazed at the service and support with PolyPrint. Reliability and repeatable print success had been huge factor in purchasing second machine.

I would definitely recommend. Great company and fantastic support.

Mike, Snarky Cancer
A customer told me she had used four different digital print shops and this was by far the best quality she had seen.

I think most of the equipment / print shops sacrifice quality (resolution) for speed, and the TexJet echo2 does not.

Cy, Wonderpress
Customer Reviews
03/10/2021
Ricky Estrada 44Caps.com

United States
Great printer, great customer service
After dealing with 3 other DTG companies, poly print was the best choice for me. Luke and his staff will go out of the way to help you grow your DTG business. The cadlink software is awesome and easy to use. The print quality is just amazing and the maintenance is very easy and simple. I love my machine. Once again thanks for all your support.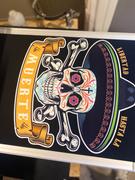 Thank you for the review Rick! We're so happy to hear you're enjoying the printer and love to see the prints coming off your echo2! Keep cranking out those amazing prints you're doing.
02/26/2021
Renee

United States
Love my Echo 2!
I have been using my Echo2 for about 6 months & I love it. The colors are vibrant and beautiful and the interface is pretty simple. I am still figuring it out, but the customer service has been impeccable at helping out however I need.
Thanks for the review! Keep on making those great prints we've been seeing on social and be sure to always reach out whenever needed.
02/25/2021
Brice, T.

United States
Echo2
We have been using the Echo2 in our shop for a few months now, from running small one off jobs to larger scale orders, this printer has provided the best quality and feel of prints. It has been a key player in our success as a shop and the the support from polyprint has by far been the best around.
Thank you so much for the review and kind words! We love to see what you print and are always here to help in any way we can.